Trusted Source for a Dumpster Rental Shavano Park Can Count On
If you're searching for a local dumpster rental Shavano Park can depend on, Bee Done Dumpsters is the best choice! When your project requires a dumpster in Shavano Park, Texas, or surrounding areas, look no further than our team of professionals who have years of experience providing the #1 dumpster rentals in Shavano Park Texas. Our company provides outstanding customer service that sets us apart from the rest, and we're available to support you through every step of the waste disposal process.

We're confident we have the best dumpster rental Shavano Park has to offer for a wide range of customers, from homeowners to construction companies. Our team has the containers that any customer, no matter the job type, needs to have on their site to keep things moving efficiently, safely, and affordably. No job is too big or too small for our team! Whether you're finally cleaning out the growing piles of clutter in the garage or tackling a home renovation project, we can help.

As a locally owned and operated business, our customers are our neighbors, and that gives us the extra push to be the top provider of a dumpster rental Shavano Park and neighboring communities can count on. From friendly and helpful customer service to convenient and timely drop-offs and pickups, we put your needs at the forefront of our service! And we know that no one wants to overpay for a roll off dumpster rental in Shavano Park, so we provide our rentals at the most affordable dumpster rental Shavano Park price you'll find! Call our friendly customer service representatives today and let us prove to you that we carry the best roll off dumpster Shavano Park TX can provide.
We Take Just About Everything
Some examples of the junk we haul away include
Refrigerator Disposal

Garbage Removal

Mattress Disposal

Foreclosure Clean Outs
Construction Waste Removal

Yard Waste Removal

Trash Removal

Appliance Removal
Television Disposal & Recycling

Furniture Removal

E-Waste Disposal

Hot Tub Disposal
Use a Durable Shavano Park Dumpster Rental for Various Projects
Book a Shavano Park dumpster rental to get started on your home improvement projects at your own residence or rental property. If you own a home, you know that there is constant upkeep involved in making it a pleasant place to live. Both outdoors and indoors need attention when it comes to waste removal from time to time. If you let your garage or attic fill with unwanted or outdated items, it will soon become an unpleasant place to store your vehicles, equipment, tools, or other household items. By clearing out that clutter with a Shavano Park dumpster rental, you have an easy solution to all of your trash and debris problems. At Bee Done Dumpsters, we're mindful of the homeowner's budget when creating our Shavano Park dumpsters pricing model. We understand that budget constraints play a role in your decision, so rest assured that we offer fair pricing that fits any project's budget and timeline when you utilize our Shavano Park dumpster service.

Commercial, construction, and demolition customers in the area always turn to us for their dumpster rentals in Shavano Park. Local business owners choose us time and time again for our reliable service and heavy-duty, affordable, budget dumpster rental Shavano Park, TX commercial clients can trust.

A large part of our rentals includes construction dumpster rental Shavano Park contractors utilize to keep work sites waste-free and on the right track. Construction companies have the ever-present need to have a reliable containment source for all of their debris. Local contractors know that our company is going to come through with on-time delivery and pickup, which is why they continue to choose our services for new infrastructure, housing developments, or demolition jobs.

Local contractors know that our safety measures are the absolute best, and when we drop off or pick up the dumpster rental, we always have our customer's safety and timeframe in mind. When we are hauling the filled dumpsters to the Bexar County Landfill, we secure the loads for safe travel from the job site to the landfill for disposal, ensuring all necessary precautions are taken and protocols are followed. Call us today to book Shavano Park roll off dumpsters that you need to have on-site for your next project!
Reliable Residential Dumpster Rental in Shavano Park TX
We are the top choice for homeowners ready for a residential dumpster rental in Shavano Park TX. Whether you're cleaning up your landscaping, getting ready to downsize, remodeling your kitchen, or just clearing out the clutter, our friendly team is here to assist you with whatever your residential waste disposal needs are.

There are so many instances in which a homeowner will require the use of a residential dumpster rental in Shavano Park TX for their home projects.

A kitchen or bath remodel requires the removal of the old fixtures, and having one of our heavy-duty bins outside the door is a smart choice.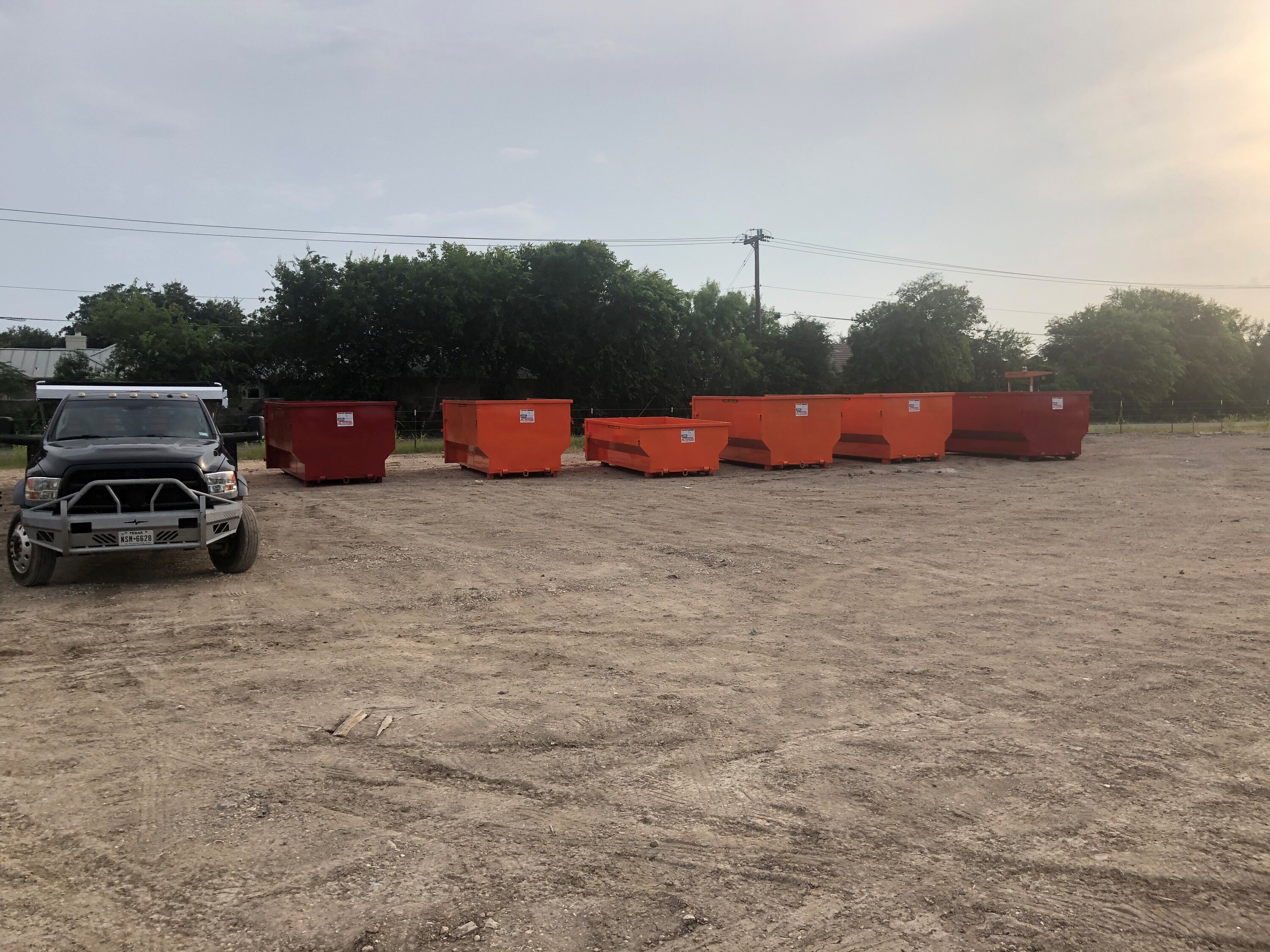 Homeowners with cluttered attics and basements will find that a roll off dumpster rental Shavano Park TX trusts to save time and money. If you are getting new furniture, toss the old furniture into an easy-load dumpster. Having the trash dumpster rental in Shavano Park from Bee Done Dumpsters outside your door means the job at hand will be an easier one for you and your family.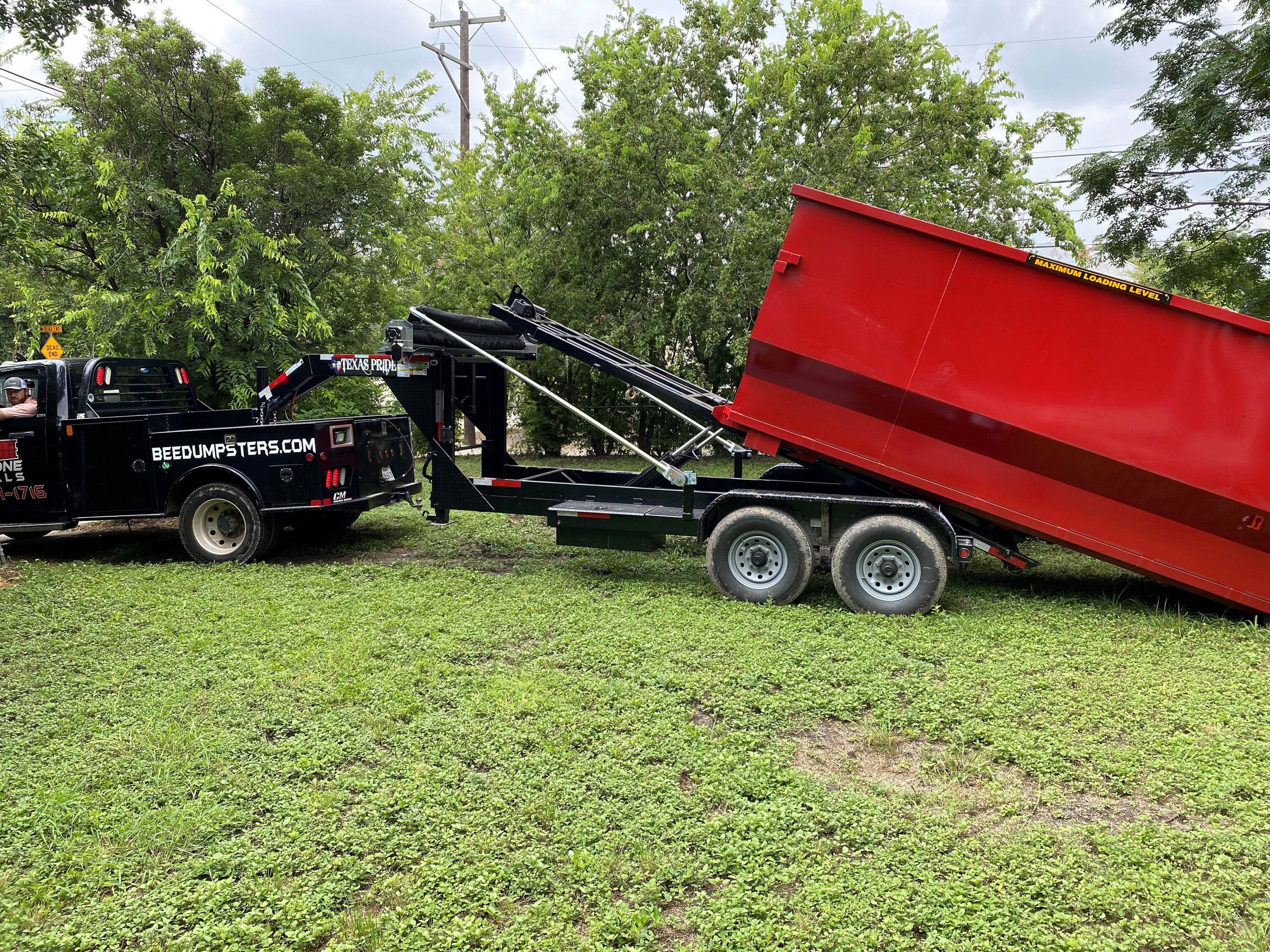 Yard Waste Dumpster Rental in Shavano Park
Homeowners use our dumpster rental in Shavano Park for yard waste when they want the outside of their homes to look their best. A neatly trimmed and maintained landscape adds curb appeal and value to your home. There are countless reasons that a residential dumpster rental service Shavano Park TX homeowners can depend on will make your yard debris clean-up easier and more convenient for you.

Having a waste management dumpster rental Shavano Park trusts for your debris containment means a much easier job and a better-looking home and yard for you to enjoy. It's a win-win! If you're replacing a fence or deck, getting rid of the debris and other waste is easy with our Shavano Park dumpster services. Load all of the old fencing or decking into the dumpster as you go, and then our drivers will pick it up and haul it away whenever you're ready.
Clearing brush and overgrown shrubs can be impossible if you don't have a place for the debris. Yearly garden cleanouts like tree and shrub trimming are just one example where a small dumpster rental Shavano Park will come in handy. Why bring in the pricey lawn guys when you can rent a dumpster and clean it up yourself? Taking pride in your home is easy when you have the right tools on hand.

Use the dumpster rental in Shavano Park TX that your neighbors use, Bee Done Dumpsters! We have the best dumpsters in Shavano Park and thousands of happy customers to prove it. Add to our long list of amazing customers by calling today to get your handy dumpster rental for yard waste.
Heavy-Duty Construction Dumpster Rental in Shavano Park
Construction projects require an efficient, cost-effective method of ongoing trash removal. Our construction dumpster rental in Shavano Park is the local contractor's choice. Debris from housing construction, such as framing, drywall, siding, and roofing trim, loads easily into roll off rentals located in Shavano Park. Stockade or chain link fencing, building or replacing decking, handrails, stairs, or support posts are just some of the construction-related items that get tossed into the large dumpster rental Shavano Park construction professionals depend on to quickly and efficiently haul away the waste.

A construction dumpster rental in Shavano Park from our experienced, on time, and reliable team is your best choice for the quality dumpster that you need on your job site as a contractor. Dozens of local construction companies trust us, and we can't wait to earn your trust, too!
Rent a Dumpster Shavano Park Roofers Trust to Haul Away Unwanted Materials
Bee Done Dumpsters makes it so easy to rent a dumpster Shavano Park roofers rely on for your next roofing project. Roofing contractors in the area use our roll off dumpster service Shavano Park trusts for all of their short or long-term waste management needs. Whether you're a do-it-yourself weekend roofer or you're replacing an entire roof, you'll find our prices and equipment can't be beat. Our dumpsters take all the various roofing materials, such as asphalt shingles or metal, and our team will haul them away on your schedule.

When you rent a dumpster Shavano Park depends on from us, we'll provide you with timely delivery and pickup along with the containers that best suit your project. Plus, your dumpster will be on-site when you need it. Call us to rent a dumpster in Shavano Park before you get started on your next roofing project.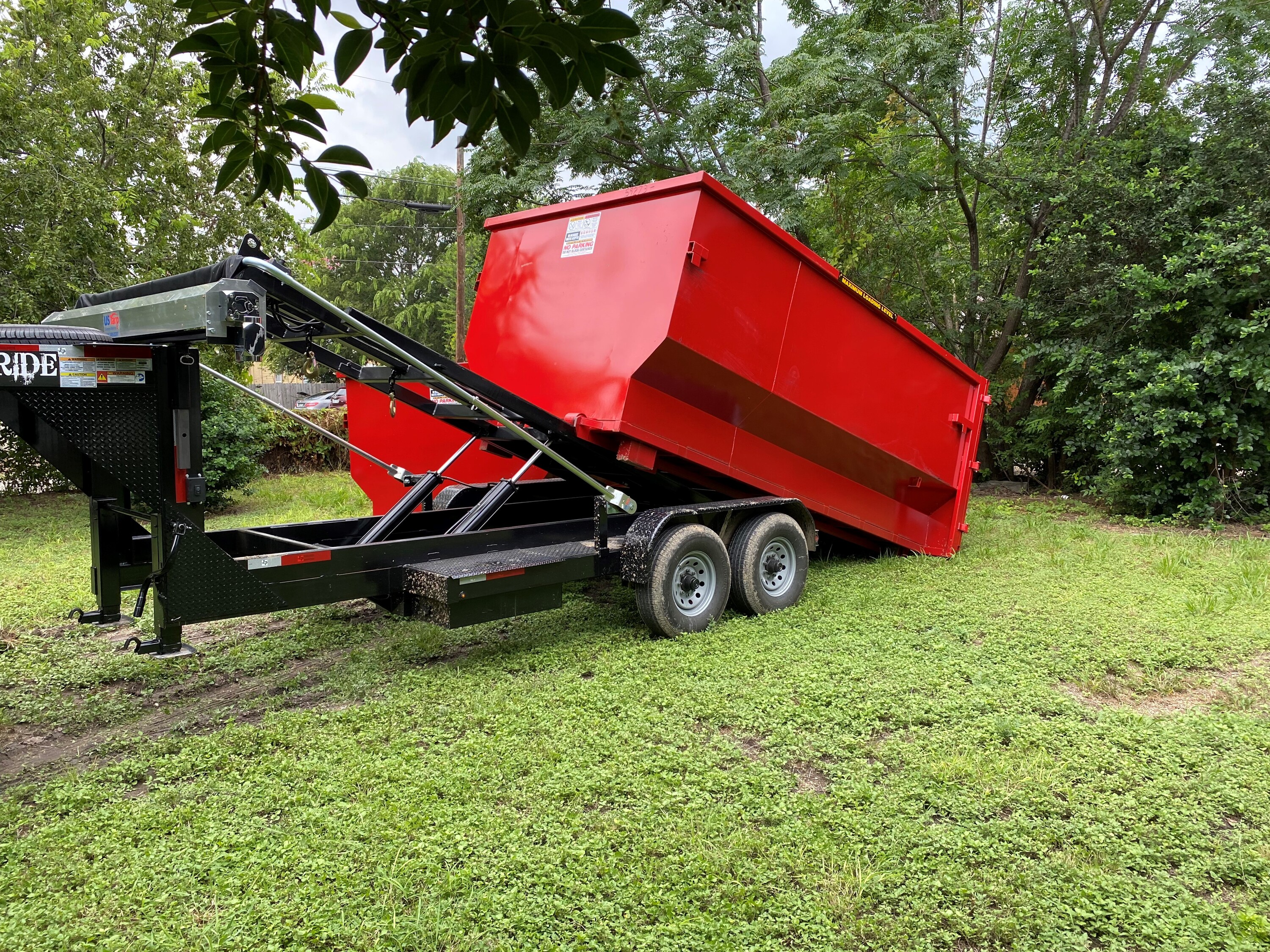 Commercial Dumpster Rental in Shavano Park for Local Businesses
Over the years, we've become the trusted, most reliable choice for dumpster rental in Shavano Park services. Our team has the best business dumpster rental Shavano Park can trust with hundreds of happy commercial customers that return to us on a regular basis to prove it. As a business owner, you know that dependability is an essential quality when it comes to customer service, and you can count on us to have your local dumpster rental in Shavano Park when and where you need it. Business owners shouldn't have to think about trash removal, and they don't have to when they have a rental trash dumpster Shavano Park trusts on their property. We provide local businesses with a reliable dumpster rental in Shavano Park so they can do what they do best while we tackle the trash!
Demolition Roll Off Dumpster Rental Shavano Park
Demolition work creates heavy debris, and we have the best demolition roll off dumpster rental Shavano Park has to offer that will handle it all for you. When you rent from us for your various demolition projects, you can count on us to deliver the equipment to the site when you need it. On-time delivery and pickup are never more essential than when it comes to a demolition job.

De-construction or demolition work may consist of tearing down a building, including the concrete floor and walls. A demo dumpster rental Shavano Park TX trusts most from Bee Done is what you need to complete that type of work successfully. All debris, including framing wood, metal roofing, chunks of concrete, and other demo materials, can be hauled away in our roll off dumpster rental Shavano Park project managers rely on.

We have the commercial dumpster rental Shavano Park uses year-round that your demolition job will require for safe containment of any work site debris. Let us help you rent a dumpster in Shavano Park Texas so you can focus on the task at hand. Our team of experts will be your best choice for quality equipment and reliability.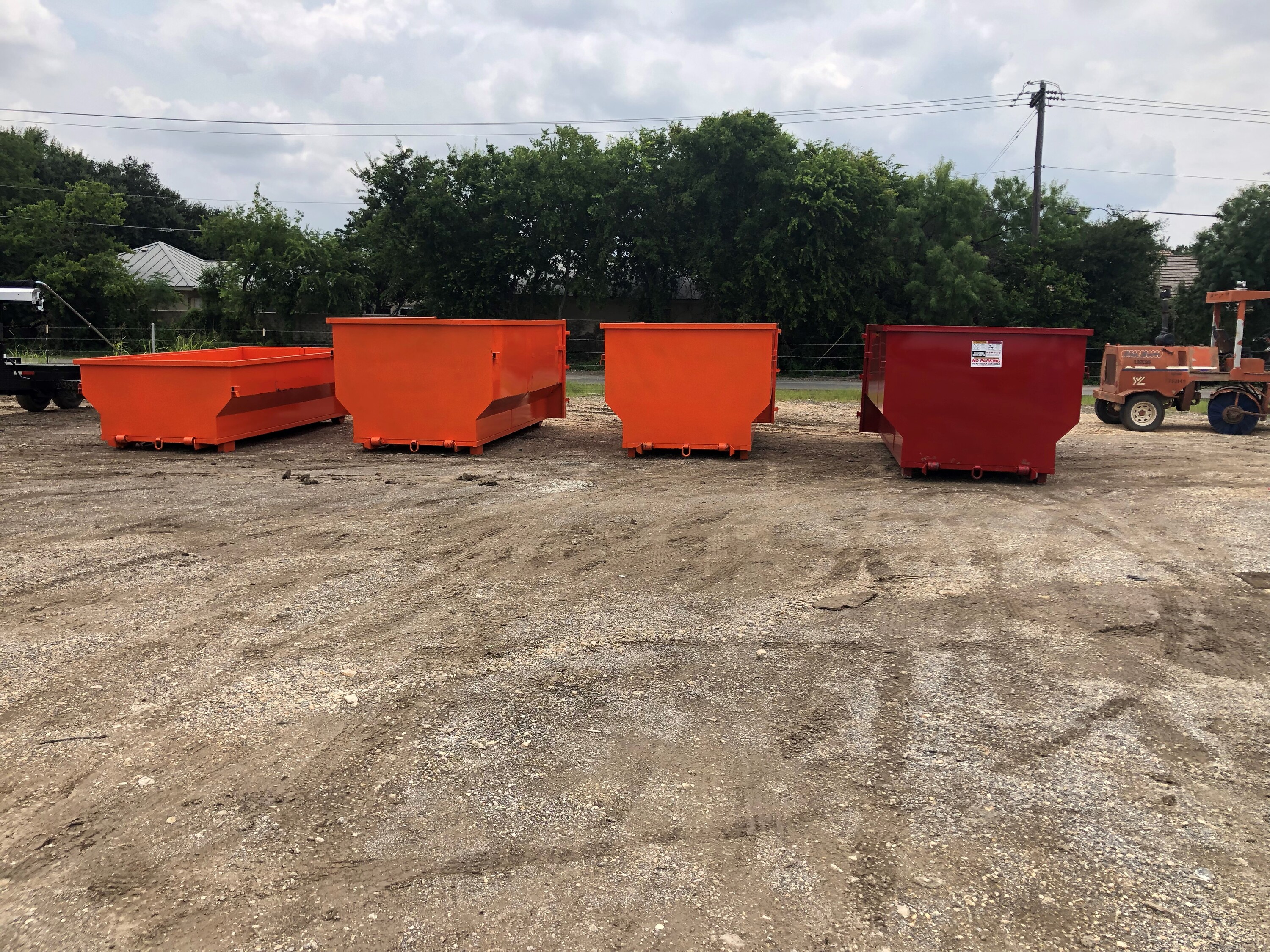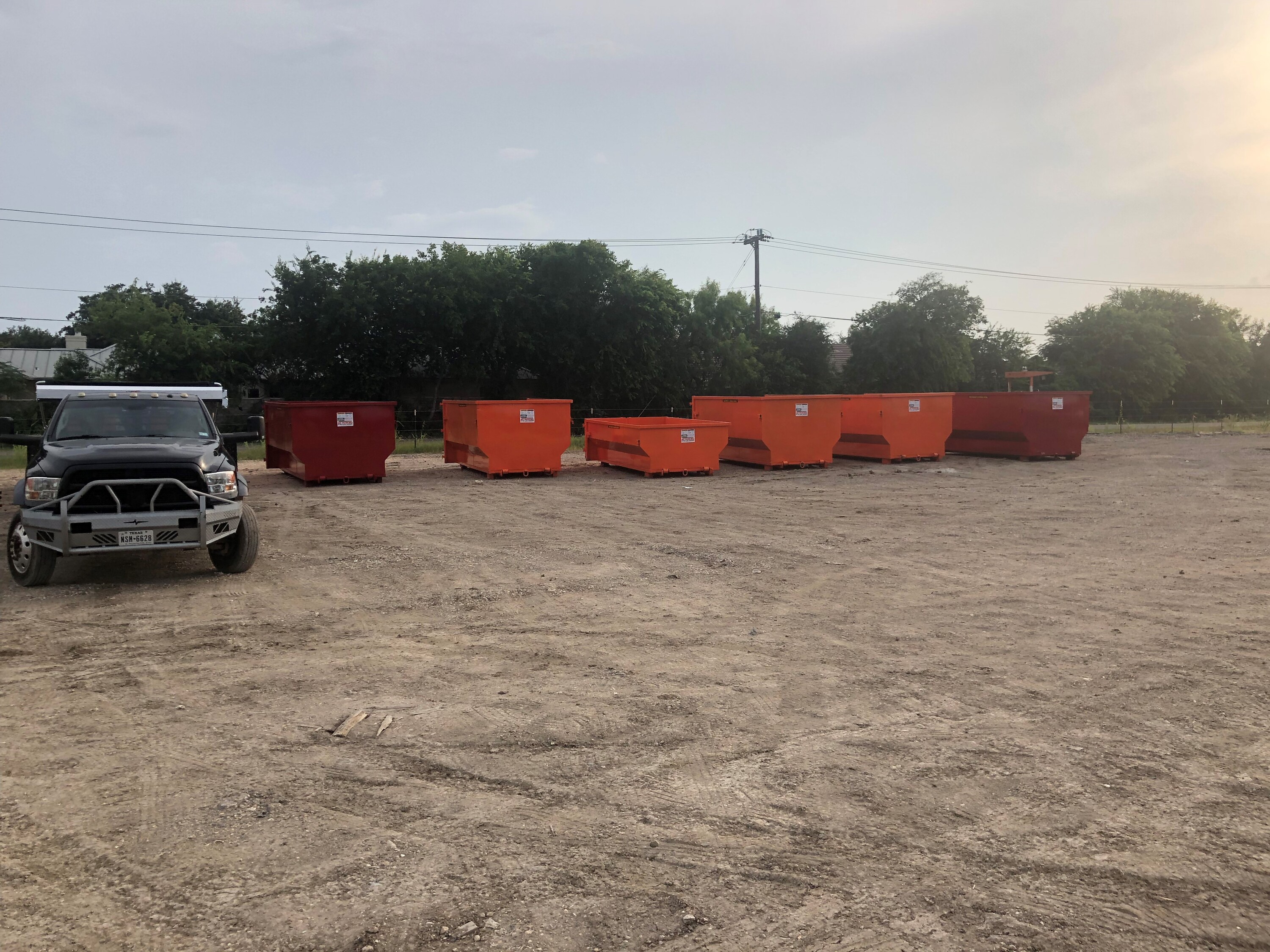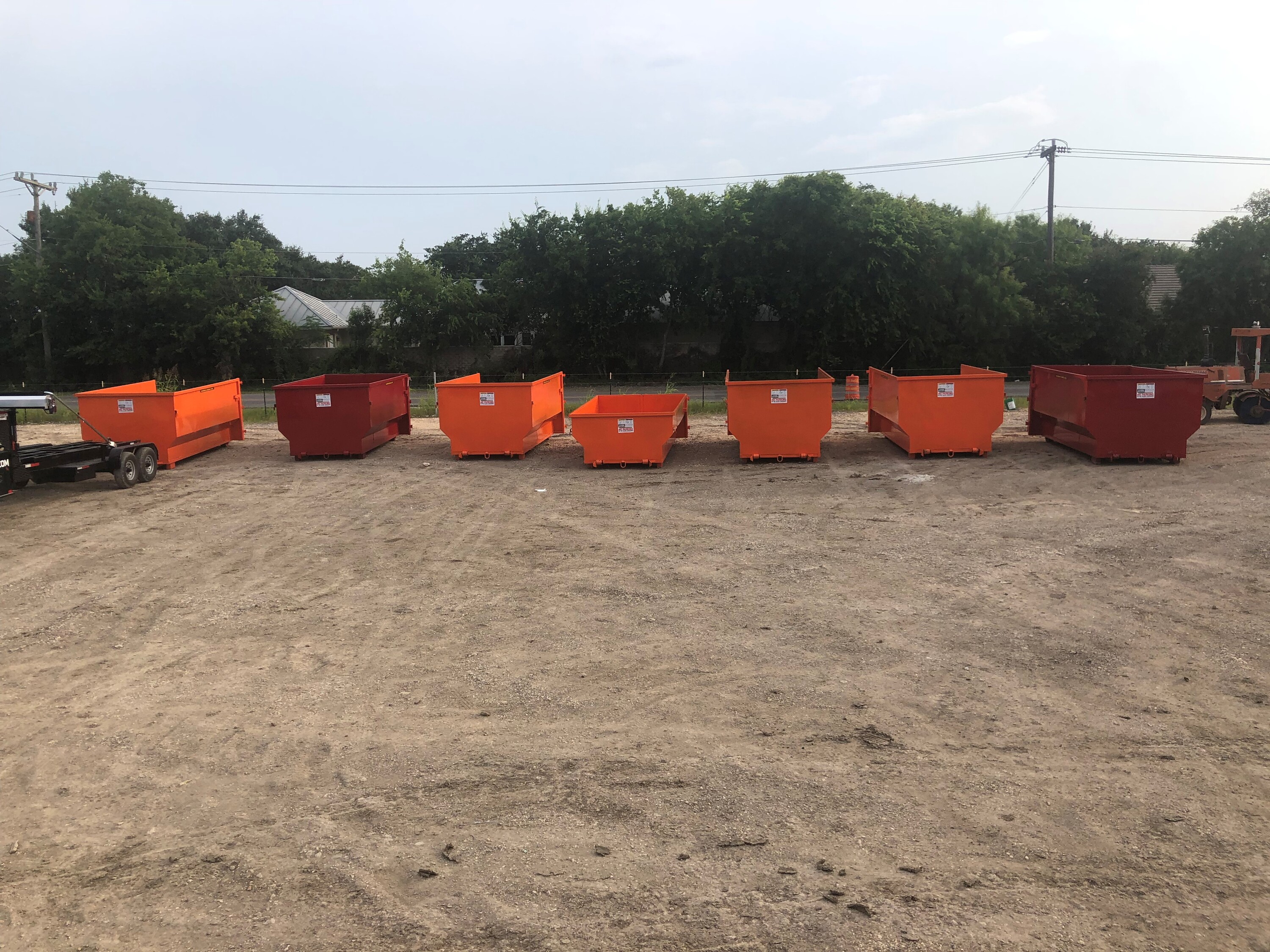 Why Choose Us for a Dumpster Rental Shavano Park TX Counts On
Bee Done Dumpsters is the smart choice for your next dumpster rental Shavano Park TX homeowners, businesses, and contractors trust, no matter the scale or scope of your upcoming waste disposal project. We guarantee to have the container that will suit your project, timeframe, and goals with our budget dumpster Shavano Park prices.

As a local company, we give our customers excellent customer service and care 100% of the time. We're invested in the community and strive to be the top choice in local dumpster services Shavano Park TX depends on for various waste removal needs. Our thousands of happy, satisfied customers will attest to the fact that we are the number one dumpster company in Shavano Park and we are here to serve your dumpster rental Shavano Park TX needs. Proudly serving the greater Shavano Park area, our knowledgeable team has experience in dumpsters for rent Shavano Park uses year-round, and our friendly representatives are ready to take your call today!
Sizes to Choose from For Your Roll Off Dumpster Shavano Park Needs
Our team is available to help you decide on the size of the roll off dumpster Shavano Park uses to clear waste with ease. Give us a call and let us know the scope or type of job you have coming up, and we're confident we have the dumpster service in Shavano Park best suited for any job. Our dumpster rental prices Shavano Park can't be beat, so check us out for all of your roll off container needs!

Our roll off dumpsters can be used for common household and commercial projects, as well as general construction and demolition. We have the following sizes available to choose from:

10-Yard: Use the small dumpster rental Shavano Park homeowners trust that is used frequently for yard waste, garbage removal, attic or garage cleanouts, among other smaller home or yard projects.

15-Yard: This size dumpster is perfect for bathroom remodels, roofing repairs, television disposal, and recycling.

20-Yard: Partial home cleanouts, general construction, and roofing projects are all common uses for a 20 yard dumpster rental in Shavano Park.

30-Yard: For larger office cleanouts, home additions, and decluttering before a move, the 30-yard is a great option.

40-Yard: Our largest container option is great for large-scale clean-out or renovation projects, running an ongoing construction site, or large demolition projects.
How to Secure Your Dumpster Rental Shavano Park Texas
When you decide what size dumpster will be the best fit for your project, securing your dumpster rental Shavano Park Texas depends on most couldn't be easier. Call (210) 834-1716 for friendly, knowledgeable customer service. We will take your information over the phone and recommend the size dumpster rental Shavano Park Texas that you need, the location you need it delivered to, and the length of the rental. The representative will help you decide which bin to choose and take payment over the phone, handling the entire transaction in one fell swoop.

Customers can also use our website when ordering the trash dumpsters Shavano Park TX uses to complete various projects. You can complete the transaction online 24/7 for your convenience. If you know exactly what you need, complete the rental online anytime, and you're always welcome to call the office with any questions that may come up. We're here to help! Use the trash dumpster rental Shavano Park trusts to get the job done, whether you're a first-time or repeat customer, and use our highly sought-after rental services - you'll be glad you did!
Servicing Bexar County With a Dumpster Rental Near Me in Shavano Park
We take great pride in keeping our fantastic city clean and safe with our dumpster rental near me in Shavano Park. Bee Done Dumpsters are the dumpster rental pros of Shavano Park as well as San Antonio, Boerne, Helotes, Selma, Leon Valley, New Braunfels, Spring Branch, Seguin, Alamo Heights, and other areas. If you've been searching for the best dumpster rental Leon Valley TX has to offer, you're in luck!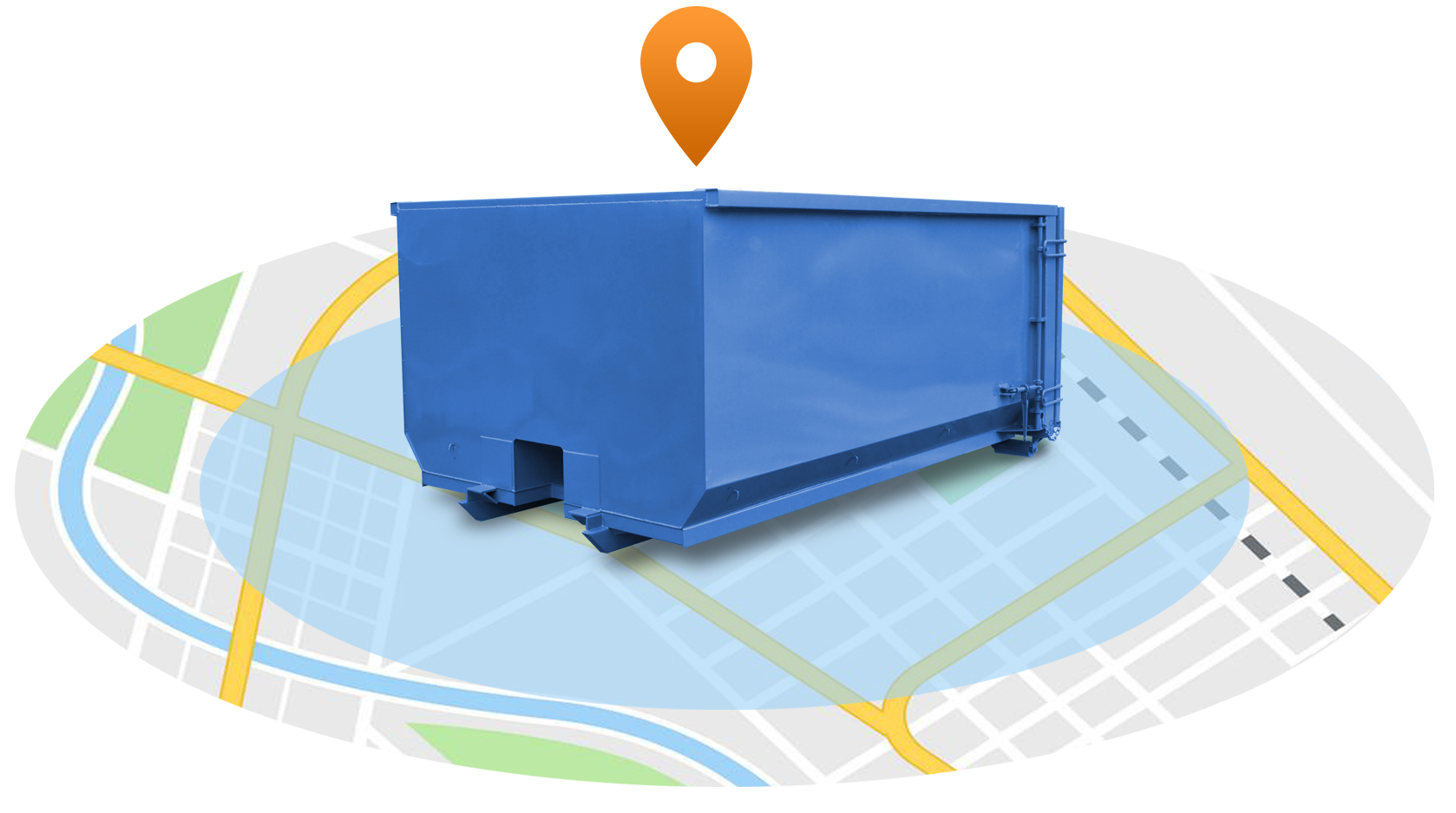 We serve all of Bexar County with our dumpster rentals Shavano Park can trust, with exceptional prices and customer service to match. Homeowners, businesses, and contractors know that we are the best in the area for dumpster rentals Shavano Park trusts. We service Bexar County, Comal County, Kendall County, Guadalupe County, and Hidalgo County, as well as the following zip codes: 78230, 78231, and 78249.

There's no need to continue to search for the best dumpster rental near me in Shavano Park with our 5-star reviewed services! Give us a call at (210) 834-1716 or book directly on our website today!
Service Area
FAQs About Our Shavano Park Dumpster Selections
We've worked hard to streamline the rental process, but there are a handful of typical questions we're asked frequently when it comes to our Shavano Park dumpster services. You have come to the right place in your search for dumpsters Shavano Park Texas uses to complete residential and commercial projects! Here are a few FAQs from our experience with our amazing customers throughout the years:
Q.
How hard is it to rent dumpsters?
A.
Dumpster rentals are easy and stress-free with the team at Bee Done Dumpsters. All you need to do is give us a call to tell us about your cleanup project and the materials you need us to haul away. Our friendly staff will answer your questions and offer you an affordable quote.
Q.
Do I need to be present for my roll-off dumpster delivery?
A.
You do not need to be on site when your dumpster rental arrives, but you should make sure the drop-off area is clear and accessible. Move cars, equipment, debris, and any other obstacles out of the way to ensure a successful delivery. If you'd like to place your budget dumpster rental, Shavano Park, TX uses year-round in the street, you should contact the city's Street Services Division ahead of time to see if a permit is required to block the public right-of-way.
Q.
Is there a certain way I should load the dumpster?
A.
Loading the dumpster as evenly as possible is the best way to fit the most debris inside and make sure it isn't overloaded. Make sure that nothing is hanging over the sides or above the top – our drivers cannot remove bins that have excessive waste hanging over the edges.
Q.
How much does it cost to rent a dumpster?
A.
Our price points vary depending on the size of the container you need, the length of time you'll have it, and other factors. While we can't promise the absolute cheapest dumpster rental in Shavano Park, we do guarantee quality service that's convenient to your schedule, so if you're searching for the best Shavano Park dumpster, you've come to the right spot.